Quick Hiring Tips
HR Avatar's Quick Hiring Tips were created for busy managers who need a team they can rely on. Each tip provides a fast, concise reminder of critical practices that can prevent an expensive and painful hiring mistake, while increasing the chances of hiring a dream team member.
A new Tip will be released every few weeks. Each is designed to provide a valuable reminder or suggestion that can be read in less than 30 seconds.
HR Avatar Quick Hiring Tip #6 - Pre-Think Your Process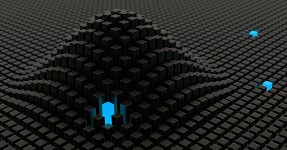 A large pool of qualified candidates increases your chances of finding a star. Once you have that pool, however, you need to have an effective strategy for sifting out the best candidates. At the same time, candidates are impatient - especially these days. They don't want to wait if you cannot tell them what comes next. This means you need to plan your process for evaluating the applicants in your pool BEFORE you start looking for candidates, so you set their expectations appropriately.
Most evaluation processes involve one or more of the following steps:
Screening Interview (recorded video or live video or phone call)
Assessments
Automated Reference Checks
Initial Interview
Team Interview (2 or more evaluators)
Work Sample Task(s)
When selecting steps you wish to use, keep in mind that you need to balance the burden on the candidate with the need for information. The process can also vary for different jobs. The higher-level the job, the more hoops applicants will be willing to jump through.
To retain your candidates, it always helps to share your process with them as early as possible. If they know what to expect they will be much more likely remain active and not drop out. Having a pre-defined process lets you keep them informed and feeling up-to-date.
HR Avatar Quick Hiring Tip #5 - Post to Multiple Sources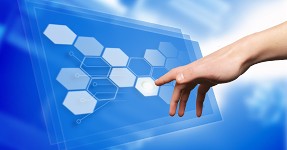 Posting a job opening to job websites one at a time is tedious. It's no fun at all. But you must tap into multiple sources in order to realize that magic volume of applicants needed to ensure you've got at least one strong candidate. Luckily, there are numerous services available that will post your opening to any number of job websites in one shot. For example, JazzHR will post your job to over 100 sites with just one click. Many applicant tracking systems, such as ZipRecruiter, Greenhouse, and Workable offer the same kind of service.
As we've repeatedly emphasized, it's important to maximize your applicant pool to ensure you'll find the best possible candidate to fill each opening. the idea is to cast a wide net - even if you are small. If you are not already using one of these tools, they may be worth considering.
HR Avatar Quick Hiring Tip #4 - Mine Employee Referrals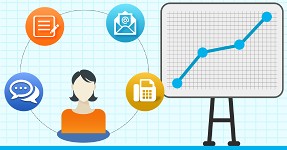 The Internet provides a great means of reaching lots of job candidates. However, Employee Referrals still rule as the most effective source of qualified applicants. According to a recent LinkedIn article1, 82% of employers rate employee referrals above all other sources based on return on investment. Candidates referred by employees are four times more likely to be hired, and 45% of all employees sourced by referrals stay for 4 or more years. These are incredible statistics. The best programs communicate needs and offer tangible rewards for successful referrals. The average employee referral bonus in 2019 was $2,500. Need we say more?
HR Avatar Quick Hiring Tip #3 - Cast a Wide Net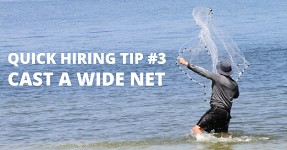 Let's say you need a new pair of shoes but you don't know exactly what you want. Would you be tempted to shop at a store with a wide selection or one with a narrow selection?
Generally speaking, the broader the selection, the more options you'll consider, and the more likely it is that you'll find what you're looking for.
New hires cost a lot more than shoes, but the same principle applies. The more candidates you consider for a particular job, the more likely at least one candidate will be outstanding.
Don't make the mistake of hiring the first person available. Sure, they may be the best applicant. But you cannot possibly know that unless you have other candidates to compare them to.
Ensure you have enough qualified candidates by casting a wide net. Post your job to various job websites, seek employee referrals, use other means. Be sure you get at least 6-8 candidates for each position and don't decide anything until you've evaluated all of them. That way, your new shoes won't just gather dust in the closet.
HR Avatar Quick Hiring Tip #2 - Use a Searchable & Notable Job Title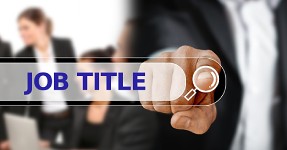 A job title must do two things. First, it must be searchable, which means it must include standard terms for the job. For example, a Bank Teller job should include "Teller" and a "Customer Service Representative" should include "Customer Service." One way to see what candidates search for is to visit a popular job website, pretend to be a candidate, and use the type-ahead feature in the search box. Look for what phrases come up at the top.
However, being found is not enough. You need to attract the attention of highly qualified candidates. This means including words of interest to candidates. If you are a start-up, try something like "Customer Service Rep - Startup Edition." If you offer upward mobility, highlight that with something like "Bank Teller with Upward Mobility." Find something that sets you apart and is of interest to candidates. Don't be too creative - it's a balance - but try to inject that one extra thing that gets their attention.
Searchable + Engaging = More Qualified Candidates
HR Avatar Quick Hiring Tip #1 - Nail Down Your Needs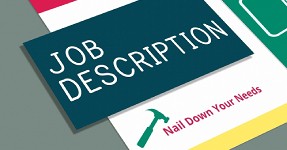 If you need to hammer a nail, a screwdriver will not help you (usually). The same goes for people. If you need a mechanic, a hairdresser probably won't do.
To be sure you get what you need, document what each new hire will do in a written job description. List the activities, as well as desired experience levels, educational requirements, and skills and knowledge.
Except for extremely lucky situations, your new hire will only be as good as the job description you start with. So make sure you nail down your needs before you start seeking candidates. You might just avoid hiring a screwdriver.